Hand painted t-shirts are unique and simply look beautiful. At least they are pieces of art. And the special one cause we can have them all the time with us. Once you have your beloved hand painted tee you want it to beautiful for long time. This is exactly why we have for you useful tips what to do to make hand painted t-shirts more durable.
How to use hand painted tees
Honestly speaking you can wear them whatever you want. It's only limited by your imagination. Hand painted t-shirt gives you unlimited possibilities to make your outfits. It is very comfortable so it's perfect for sport dressup. But it suits also perfectly to more elegant outfits, you can wear it even with skirt (I know what I'm saying, cause I've checked it by myself). Do you wonder if it is suitable for any weather? Of course it does! You can even wear it in the rainy day, if you want. Paintings are waterproof and rain not gonna ruin them.
Durable and waterproof fabric paintings
We know that you want to have in your closet clothing not only beautiful but also practical. For painting our tees we use special fabric paintings, that are waterproof and durable. We're looking for the long time perfect fabric paintings and we're doing quality tests. You know how it is, our goal it to make only the best quality and the most beautiful things. Our hand painted paintings are waterproof and durable. So you can wear tees from ART&CAT without any worries. Of course we cannot assure you that our t-shirts never gonna worn up. Unfortunately everything someday will worn up. This is how it is. But let me tell you something, this is not a bad thing. This is the reason for buying new beloved hand painted tee, cool right?
Do you know what? We've got one more great news for you! Do you have t-shirt from ART&CAT which you were wearing for a long, long time and it is already worn up? Just send us photo of your beloved tee and we gonna give you 20% rabat for your next tee. Isn't it wonderful? So we're waiting for pics from you!
How to take care of hand painted tees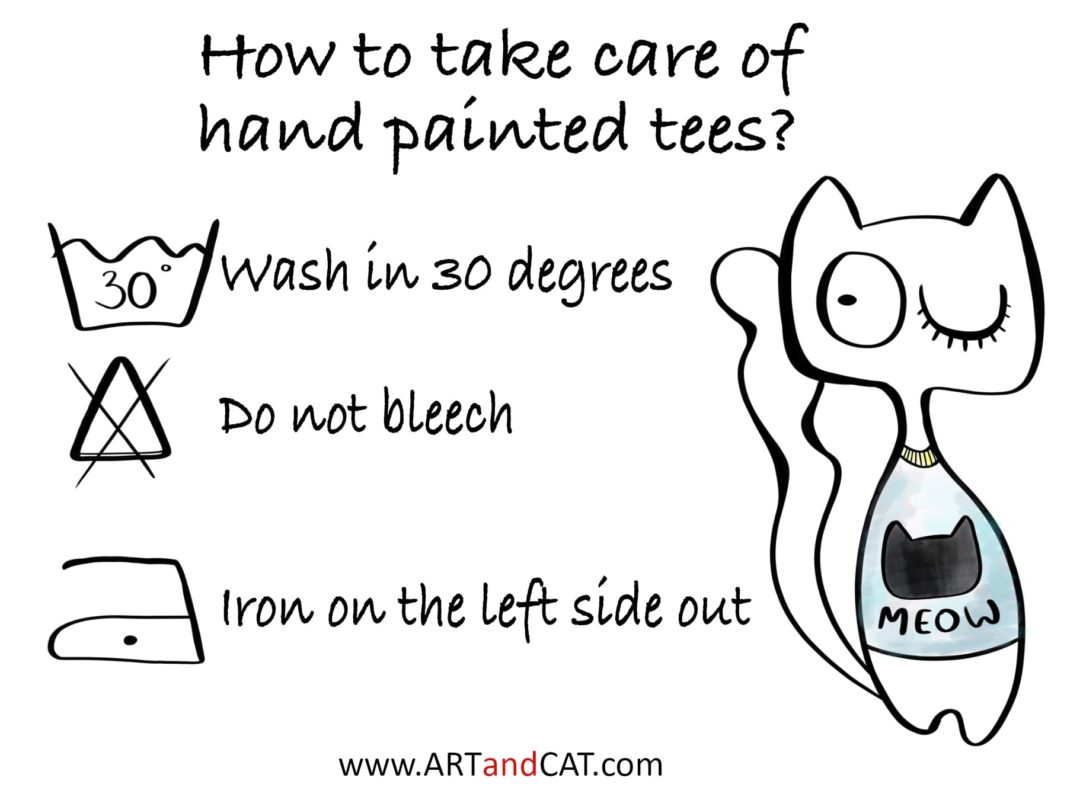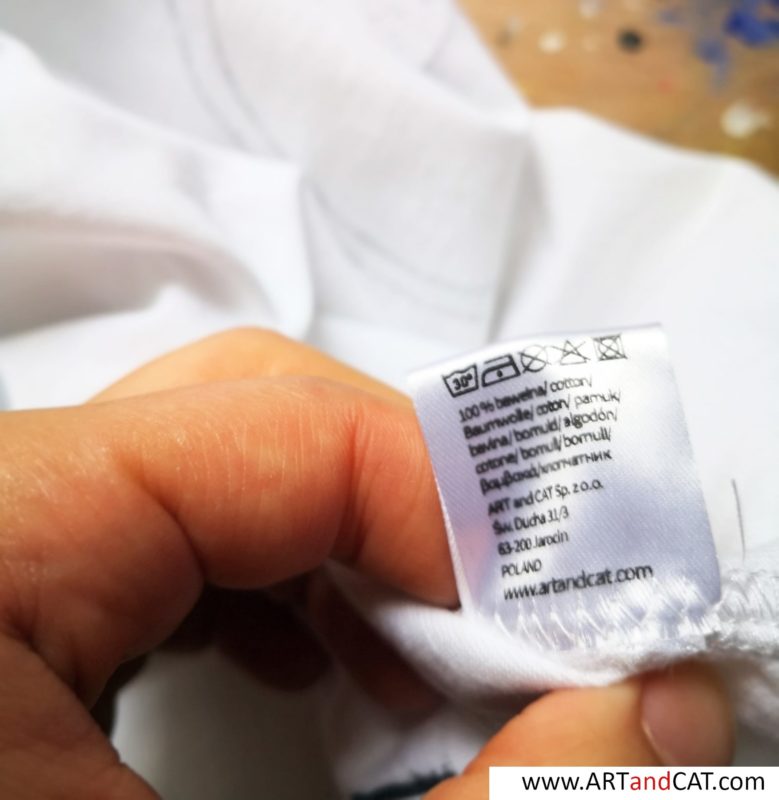 Can I wash in washing machine my hand painted t-shirts?
Do you wonder if you can wash your hand painted tee in wasching machine? Of course you can! How could we force you to make hand washing? Our t-shirts are waterproof and can be wash in washing machine. But please remember that they are hand painted so they are more delicate than machine printed. Don't use any bleecher and wash in max 30 degrees. All this information you can also find on the clothing label (look for it on the back side out of tee). When you will remember about this few tips you don't need to worry about washing in washing machine.
Ironing of hand painted tees
Now we know how to wash our hand painted tees so let's talk about ironing. We understand that you want your t-shirts to look always stunning. Ironing is important here so we thought it through. You can iron your beloved hand painted tees. Just remember you cannot iron directly on paintings cause you can destroy them. Simply make it on back side out or through some other fabric.
So my dears, have a wonderful time wearing hand painted tees form ART&CAT